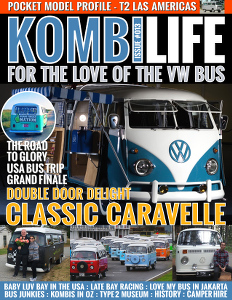 Kombi Life VW Magazine – it's NEW and it's in amazing INTERACTIVE digital form. Priced at less than a latte it's just £1.99 / US$2.99 / A$2.99 per issue or SUBSCRIBE and SAVE – Just £6.99 / US$9.99 / A$10.49 for a whole year!

Get it today for mobile or PC / Mac
The digital revolution is in full swing and Kombi Life is your next generation interactive digital magazine. It's certainly much more than a digital print replica can ever hope to be…
What does this mean for the VW Bus Enthusiast? An explosion of colour, graphics and interactivity. We proved it could happen with the world's first dedicated VW & Porsche interactive digital magazine – Aircooled Classics – and now Kombi Life magazine is here, built for a global audience with a UK-based editor and global team.
What does this mean for the VW Trade? A new opportunity to connect with VW enthusiasts the world over and easily affordable advertising with hot linked adverts straight from the magazine to your website. Your adverts can even include video – how brilliant is that!